Looking for some comforting, flavor-packed soup recipes? Whether it is a chilly winter night that requires a hearty warm-your belly meal, or a busy weeknight when you just need to throw something together, this list of favorite soup recipes is your ticket!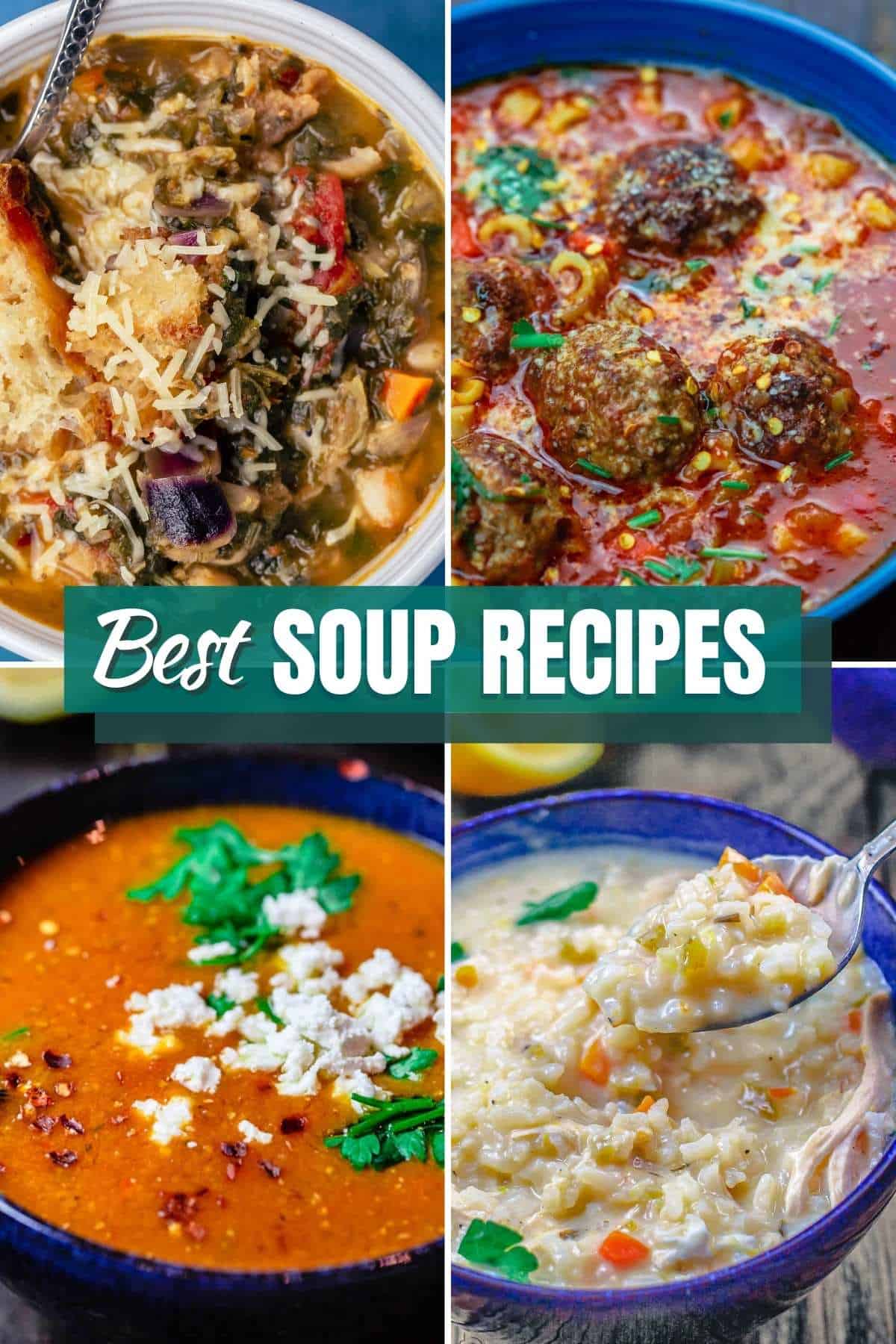 I am one of those people who eat soup on the regular. Not only is soup all the comfort, but it is truly a great way to use up what vegetables or proteins you have to create a nourishing meal on the fly.
I've put together a list of favorite soup recipes that has something for everyone. If you're a chicken soup lover, I got you covered? And if you're looking for healthy vegetable soup recipes, or new ways to use up your lentils and beans, there is a big selection here for you? And I've also included some fish soup recipes and even a couple that use meat because, every now and then, nothing else will do but meatball soup.
You'll find that the trick to flavoring your soup is in using some all-natural spices, combined with fresh ingredients and aromatics like garlic, fresh herbs, and a bit of citrus. I love finishing my soups with a good drizzle of quality extra-virgin olive oil.
To serve any of these soup recipes, you can add your favorite crusty bread and maybe a big bowl of salad to start.
Here you go…
Favorite soup recipes
Vegetable soup
If you ever need a way to push your body's reset button, vegetable soup can be a delicious and comforting way to do that without going on a harsh detox diet. Plus, what better way to use up those veggies and herbs in the bottom drawer of your fridge? Here are four veggie-forward soups I love (and there is more in the lentil soup and bean soup sections below):
Chicken soup, three ways
Chicken soup is one of those nostalgic dishes known as a home remedy to comfort the sick or relief the cold chill in the air. It's also one of those universal foods every culture, and every household, has some version of–noodles or not. Here are three of my go-to chicken soup recipes that are comforting and loaded with flavor:
Lentil soup
Lentils are a staple of the Mediterranean pantry. Like other pulses, lentils are affordable and can make a satisfying meal that is high in plant-based protein, fiber and more. Here are a few lentil soup recipes you can start with:
Fish soup
Fish and seafood is a big part of eating the Mediterranean diet, and fish soup is one easy way to get some of your fish intake. Here are a few fish soup recipes that are popular with my family:
Bean soup
I highlighted a couple earlier including Ribollita soup up in the vegetable soup section, but there are many more satisfying Mediterranean bean soup recipes. Like lentils, they are a great source of plant-base protein and fiber. I love the convenience of using canned beans, particularly in quick weeknight soups.
Meatball soup and more!
I couldn't list my best soup recipes without including a couple of meaty options! Meatball soup is definitely a fan favorite and so is Italian sausage minestrone. Check them out.
You may also like
The post 20 Soup Recipes for Everyday! appeared first on The Mediterranean Dish.